My second release for Sole Music, "No More Heroes/No Time", was released on Promo today over at Traxsource. As always you can listen on my Soundcloud player.
Here are some reactions on the tracks, looking good :)
Dave Lee/Joey Negro, 4/5, Mr Cogan with Another Winner
Jimpster, 4/5, Proper job! yeah, lovely. those some big ol' stabs innit. ;)
Ashley Beedle, 5/5, Killer is the word. Uplifting music that brings a smile to your face!
Hiro, 4/5, Really like old skool vibe.
Aaron Ross, 4/5, nice grooves
Shur-i-kan, 4/5, mmm, like chords.
Simon Palmskin, 4/5, Nice production, and certainly on the upside of things compared to the wash of moody minimal stuff. Get's my nod for sure
Laurent Garnier, 4/5, No more Heroes is great pure dancefloor hapyness
Sei A / Droido, 4/5, Refreshing to hear the sound of No more Heroes - great track. Original and Stevie Sole edit for me.
The Jink, 4/5, real nice old scholl vibe on these, will defo give em an airing on the weekend.
Funk D'Void / Francois Dubois, 4/5, fab track....love it
Mark Farina, 4/5, Great old school vibe mid 90's ish!!
Yogi (Random Soul), 4/5, diggin the original of no time.... great production all round... slick!
SCOPE, 4/5, Another excellent release by chuck.. Both cuts are great!
Mad Mats (Raw Fusion), 4/5, Loveleeeeeee!!!!
Lars Behrenroth, 4/5, No More Heroes is really nice
DJ Asparagus (Raw Fusion), 4/5, BIG TUNES!!! Love "No More Heroes"! Definitely for my floors...
Trickski, 4/5, nice track! no more heroes rocks!
Dj Meri, 5/5, quality music! superb stuff.. all tracks are good! Cheers
Murray Richardson, 4/5, nice no more heroes track and a nice sole edit too!

Sole Music Chuck Cogan returns on Solemusic following the big underground success of Satellite and Stargazer with this cracking double header of solid Old Skool uplifting house. With memories of the heady days of Paul Trouble Anderson's weds night Loft Institution, No More Heroes is a refreshing antidote to the moody deepness prevalent today. In addition Stevie Sole does some knob tweeking and tape cutting in his fine edit of Heroes. The flipside, No Time, is slightly more musically sophisticated but still keeps that energetic positive vibe. Super springtime soleful house music. Nice.
Also "Satellites" is still doing some waves on the pond, Dave Lee/Joey Negro bumped it up from a Nr7 in march to a Nr5 on his April Chart over at Beatport
"Satellites" is also at Nr5 on Hiro's "Hiro Loves House in April" chart over at Beatport


Satellites have been getting some chart action, and the reactions i have got from the label's promo sendouts sofar have been really great for both Satellites and Stargazer. Dave Lee/Joey Negro has Satellites at Nr 7 and Andy Ward has it at Nr 6 on there Top Ten's.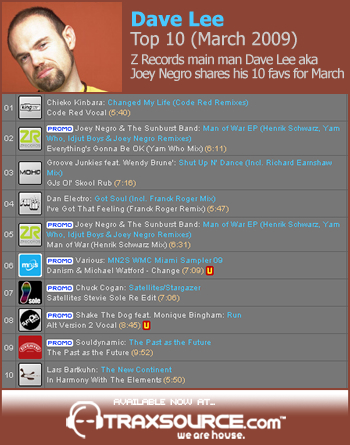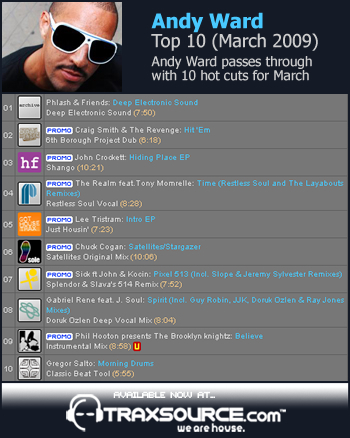 "Satellites/Stargazer" is my first release on Sole Music , home of Stevie Sole, Milton Jackson & Hiro to just name a few. Its also my first release since 2003, been away from producing music for a few years and "Satellites" was the first track i did when i started up again last year...2008, so this is a very proud moment for me to be part of such a great label as Sole Music . Hope people will like these tracks as much as i do myself....
Here are some reactions on the release:
Franco De Mulero, 4/5, amazing release full support any mix.
Shur-i-kan, 4/5, yes yes yes loving this.
Sean Danke, 4/5, Yeah nice one really beautiful house music. Sweet it is.
Andy Ward (Soul Central), 4/5, satellites is straight up real house music. Played right it can be incorporated into any set and I look forward to spinning this on air and out to a dancefloor.
Funk D'Void / Francois Dubois, 4/5, This is a real grower! Slowly but surely falling in love with Satellites. Quality stuff.
Tomoki Tamura, 3/5, Nice groove good for early set.
Terrence T, 4/5, Loved Stevie's edit on the bargrooves EP it's great to see the original released on Solemusic beautiful track. Stargazer is cool. Nice warm smooth sounds. Many thanks TT.
Claude Monnet, 5/5, Satelite is a bullet full of deepness. Full support
Kiko Navarro, 4/5, very good ep really like both tracks is very nice to listen to music like this nowadays is not very usual.. Satellites is the one for the floor and stargazer for deep moments i like both. Thanks.
SCOPE, 4/5, Stargazer is so nice!! Will play & support for sure!
Tommi White, 5/5, very nice ep. will play them all:)
Mad Mats (Raw Fusion), 4/5, Supa hot deepish house. Luv the soulful afro feel...will be spinnin this one 4 sure!
Kev Beadle, 4/5, Really nice this. Definitely the kind of track I can play in my sets.
Ashley Beedle, 5/5, Stunning stuff ! Absolutely love this EP. Will be rocking this from dusk until dawn.
Domu, 4/5, A soulful journey back to Detroit with some distinct nods to Jazz Disco and Brazil. A perfect harmonic companion to a rhythmically pleasing ep!
Leigh Morgan (Urban Torque), 4/5, quality house music nuff said very good indeed
Matt Masters, 4/5, Nice for the bar grooves.....
Harri (Sublcub), 4/5, tracks are great....really like them all
C-Rock, 5/5, best deephouse sole for a long long time. please give us more of this!
Hiro, 5/5, This is amazing house music
Laurent Garnier, 4/5, this is sooo deeeeep i looooove it full support from me
Simon Palmskin, 3/5, Excellent disco vibe - could almost sneak it into a boogie set and pretend it's a rare old gem.
Lars Behrenroth, 5/5, beautiful release oozing class and deepness. air & clubplay
Dj Spen, 4/5, Really Like Satellites...the edit is really nice :)
Q-Burns Abstract Message, 4/5, lovely tracks possibly prefering "Stargazer" for the added dreaminess and fine percussion.Cheers for it ...
Graeme Revenge, 4/5, Rock solid summer sounds ;)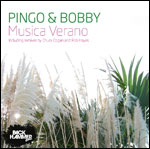 A remix that was released a few weeks ago. You can get your copy over at Traxsource
Pingo & Bobby - Musica Verano
BHAMMERSOUL 002
Release Date - Feb 2009
01 - Original (06:16)
02 - Chuck Cogan Remix (07:37)
03 - Rob's Classic Dub (05:11)
04 - Pingo's Dub Remix (08:11)
http://soundcloud.com/chuck-cogan
feel free to have a look at my old site.....not updated since 2003 -
Old Chuck Cogan site
copyright © 2009